The World Series of Poker Online action may be wrapping up soon at GGPoker, but the site has even more tournament action coming in October. That includes some nice tournaments for players with smaller bankrolls.
The mini MILLION$ runs on the site from Oct. 2-17 with a total of $5 million guaranteed across the series. Online poker players will find buy-ins starting at just $1.
The low-roller action promises plenty of bang for the buck including the signature event in the series. The $10.50 Mystery Bounty MILLION$ offers a $1 million guarantee and should be popular with players seeking a major payday. Starting flights run throughout the series and begin on Oct. 6.

Deposit $20 & Get $50 Free or
100% up to $600 On Deposit
Rewards program with attainable milestones
To Claim: Click Get Started
Other GGPoker Mini MILLION$ highlights
The mini MILLION$ promises plenty of action for all player levels and bankrolls. The series features numerous tournament types including monster stack, bounty, Omaha, Flip & Go, and more. 
"Even though the buy-ins are low, there's nothing mini about this series," Global head of GGPoker Sarne Lightman said in a news release. "There's over $5 million to be won and with buy-ins starting from just $1, mini MILLION$ tournaments are designed to be accessible to almost every player."
Beyond the Mystery Bounty, the action also includes some other major guarantees. Here's a look at a few of the highlights.
$5 mini Global MILLION$ – Starting flights begin Oct. 2 and the event offers a $300,000 guarantee.
$11 Sunday Hundred Grand – This tournament is set for Oct. 2 and guarantees $101,000.
$5.25 Omaholic Mini Bounty MILLION$ – Jump in the Omaha action for just five bucks for a shot at the $100,000 guarantee. Stage 1 events get underway on Oct. 2. 
"If you're sick of the same old tournament series, then the new mini MILLION$ is for you," GG notes of the new series. "We're aiming to put the fun and excitement back into poker, mini MILLION$ tournaments are for everyone to enjoy!"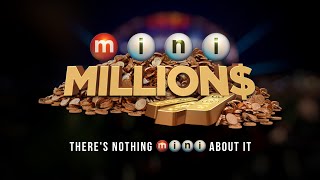 Here's a look at the complete series.
GGPoker 2022 mini MILLION$
|   | Event | Buy-in | Guarantee |
| --- | --- | --- | --- |
| Oct 2 | $1.88 Sunday Asia Kick-Off | $1.88 | $10,000 |
| Oct 2 | $2.50 Sunday Monster Stack | $2.50 | $15,000 |
| Oct 2 | $10.50 Sunday Bounty Blast | $10.50 | $60,000 |
| Oct 2 | $3.15 Sunday Bounty Hunters Warm-Up | $3.15 | $20,000 |
| Oct 2 | $8.40 Sunday Bounty Hunters Special | $8.40 | $50,000 |
| Oct 2 | $1.05 Bounty Hunters Sunday Big One | $1.05 | $8,000 |
| Oct 2 | $8.88 Sunday CRAZY EIGHTS | $8.88 | $50,000 |
| Oct 2 | $5.25 Bounty Hunters Sunday Main | $5.25 | $50,000 |
| Oct 2 | $2.10 Bounty Hunters Sunday Big Game | $2.10 | $15,000 |
| Oct 2 | $11 Sunday Hundred Grand, $101K GTD | $11.00 | $101,000 |
| Oct 2 | $3.15 Sunday Bounty King Baby | $3.15 | $20,000 |
| Oct 2 | $10.50 Bounty Hunters Sunday Special | $10.50 | $60,000 |
| Oct 2 | $7.77 LUCKY SEVENS Sunday Turbo [7-Max] | $7.77 | $30,000 |
| Oct 2 | $1.05 Bounty Hunters Sunday Closer | $1.05 | $6,000 |
| Oct 2 | mini Global MILLION$, $300K GTD [Day 1] | $5.00 | $300,000 |
| Oct 2 | mini Omaholic Bounty MILLION$, $100K GTD [Stage 1] | $5.25 | $100,000 |
| Oct 2 | mini Global MILLION$, $300K GTD [Day 1] | $5.00 | $300,000 |
| Oct 2 | mini Omaholic Bounty MILLION$, $100K GTD [Stage 1] | $5.25 | $100,000 |
| Oct 3 | mini Global MILLION$, $300K GTD [Day 1] | $5.00 | $300,000 |
| Oct 3 | mini Omaholic Bounty MILLION$, $100K GTD [Stage 1] | $5.25 | $100,000 |
| Oct 3 | mini Global MILLION$, $300K GTD [Day 1] | $5.00 | $300,000 |
| Oct 3 | mini Omaholic Bounty MILLION$, $100K GTD [Stage 1] | $5.25 | $100,000 |
| Oct 3 | mini Global MILLION$, $300K GTD [Day 1] | $5.00 | $300,000 |
| Oct 3 | mini Omaholic Bounty MILLION$, $100K GTD [Stage 1] | $5.25 | $100,000 |
| Oct 3 | mini Global MILLION$, $300K GTD [Day 1] | $5.00 | $300,000 |
| Oct 3 | mini Omaholic Bounty MILLION$, $100K GTD [Stage 1] | $5.25 | $100,000 |
| Oct 3 | mini Global MILLION$, $300K GTD [Day 1] | $5.00 | $300,000 |
| Oct 3 | mini Omaholic Bounty MILLION$, $100K GTD [Stage 1] | $5.25 | $100,000 |
| Oct 3 | mini Global MILLION$, $300K GTD [Day 1] | $5.00 | $300,000 |
| Oct 3 | mini Omaholic Bounty MILLION$, $100K GTD [Stage 1] | $5.25 | $100,000 |
| Oct 3 | $1.88 Asia Kick-Off | $1.88 | $8,000 |
| Oct 3 | mini Global MILLION$, $300K GTD [Day 1] | $5.00 | $300,000 |
| Oct 3 | $2.50 Monster Stack | $2.50 | $10,000 |
| Oct 3 | mini Omaholic Bounty MILLION$, $100K GTD [Stage 1] | $5.25 | $100,000 |
| Oct 3 | $3.15 Bounty Hunters Warm-Up | $3.15 | $15,000 |
| Oct 3 | mini Global MILLION$, $300K GTD [Day 1] | $5.00 | $300,000 |
| Oct 3 | $4.40 Forty Stack | $4.40 | $12,500 |
| Oct 3 | $1.05 Bounty Hunters Big One | $1.05 | $5,000 |
| Oct 3 | mini Omaholic Bounty MILLION$, $100K GTD [Stage 1] | $5.25 | $100,000 |
| Oct 3 | $5.25 Bounty Hunters Mini Main | $5.25 | $30,000 |
| Oct 3 | mini Global MILLION$, $300K GTD [Day 1] | $5.00 | $300,000 |
| Oct 3 | $5 Monday Classic | $5.00 | $20,000 |
| Oct 3 | $2.10 Bounty Hunters Big Game | $2.10 | $10,000 |
| Oct 3 | mini Omaholic Bounty MILLION$, $100K GTD [Stage 1] | $5.25 | $100,000 |
| Oct 3 | $10.50 Bounty Hunters Grand Slam | $10.50 | $50,000 |
| Oct 3 | $3.15 Bounty King Baby | $3.15 | $12,000 |
| Oct 3 | mini Global MILLION$, $300K GTD [Day 1] | $5.00 | $300,000 |
| Oct 3 | mini Omaholic Bounty MILLION$, $100K GTD [Stage 1] | $5.25 | $100,000 |
| Oct 3 | $7.77 LUCKY SEVENS Superstack Turbo [7-Max] | $7.77 | $20,000 |
| Oct 3 | mini Global MILLION$, $300K GTD [Day 1] | $5.00 | $300,000 |
| Oct 3 | $1.05 Bounty Hunters Closer | $1.05 | $5,000 |
| Oct 3 | mini Omaholic Bounty MILLION$, $100K GTD [Stage 1] | $5.25 | $100,000 |
| Oct 3 | mini Global MILLION$, $300K GTD [Day 1] | $5.00 | $300,000 |
| Oct 3 | mini Omaholic Bounty MILLION$, $100K GTD [Stage 1] | $5.25 | $100,000 |
| Oct 4 | mini Global MILLION$, $300K GTD [Day 1] | $5.00 | $300,000 |
| Oct 4 | mini Omaholic Bounty MILLION$, $100K GTD [Stage 1] | $5.25 | $100,000 |
| Oct 4 | mini Global MILLION$, $300K GTD [Day 1] | $5.00 | $300,000 |
| Oct 4 | mini Omaholic Bounty MILLION$, $100K GTD [Stage 1] | $5.25 | $100,000 |
| Oct 4 | mini Global MILLION$, $300K GTD [Day 1] | $5.00 | $300,000 |
| Oct 4 | mini Omaholic Bounty MILLION$, $100K GTD [Stage 1] | $5.25 | $100,000 |
| Oct 4 | mini Global MILLION$, $300K GTD [Day 1] | $5.00 | $300,000 |
| Oct 4 | mini Omaholic Bounty MILLION$, $100K GTD [Stage 1] | $5.25 | $100,000 |
| Oct 4 | mini Global MILLION$, $300K GTD [Day 1] | $5.00 | $300,000 |
| Oct 4 | mini Omaholic Bounty MILLION$, $100K GTD [Stage 1] | $5.25 | $100,000 |
| Oct 4 | mini Global MILLION$, $300K GTD [Day 1] | $5.00 | $300,000 |
| Oct 4 | mini Omaholic Bounty MILLION$, $100K GTD [Stage 1] | $5.25 | $100,000 |
| Oct 4 | $1.88 Asia Kick-Off | $1.88 | $8,000 |
| Oct 4 | mini Global MILLION$, $300K GTD [Day 1] | $5.00 | $300,000 |
| Oct 4 | $2.50 Monster Stack | $2.50 | $10,000 |
| Oct 4 | mini Omaholic Bounty MILLION$, $100K GTD [Stage 1] | $5.25 | $100,000 |
| Oct 4 | $3.15 Bounty Hunters Warm-Up | $3.15 | $15,000 |
| Oct 4 | mini Global MILLION$, $300K GTD [Day 1] | $5.00 | $300,000 |
| Oct 4 | $4.40 Forty Stack | $4.40 | $12,500 |
| Oct 4 | $1.05 Bounty Hunters Big One | $1.05 | $5,000 |
| Oct 4 | mini Omaholic Bounty MILLION$, $100K GTD [Stage 1] | $5.25 | $100,000 |
| Oct 4 | $5.25 Bounty Hunters Mini Main | $5.25 | $30,000 |
| Oct 4 | mini Global MILLION$, $300K GTD [Day 1] | $5.00 | $300,000 |
| Oct 4 | $5 Tuesday Classic | $5.00 | $20,000 |
| Oct 4 | $2.10 Bounty Hunters Big Game | $2.10 | $10,000 |
| Oct 4 | mini Omaholic Bounty MILLION$, $100K GTD [Stage 1] | $5.25 | $100,000 |
| Oct 4 | $10.50 Bounty Hunters Grand Slam | $10.50 | $50,000 |
| Oct 4 | $3.15 Bounty King Baby | $3.15 | $12,000 |
| Oct 4 | mini Global MILLION$, $300K GTD [Day 1] | $5.00 | $300,000 |
| Oct 4 | mini Omaholic Bounty MILLION$, $100K GTD [Stage 1] | $5.25 | $100,000 |
| Oct 4 | $7.77 LUCKY SEVENS Superstack Turbo [7-Max] | $7.77 | $20,000 |
| Oct 4 | mini Global MILLION$, $300K GTD [Day 1] | $5.00 | $300,000 |
| Oct 4 | $1.05 Bounty Hunters Closer | $1.05 | $5,000 |
| Oct 4 | mini Omaholic Bounty MILLION$, $100K GTD [Stage 1] | $5.25 | $100,000 |
| Oct 4 | mini Global MILLION$, $300K GTD [Day 1] | $5.00 | $300,000 |
| Oct 4 | mini Omaholic Bounty MILLION$, $100K GTD [Stage 1] | $5.25 | $100,000 |
| Oct 5 | mini Global MILLION$, $300K GTD [Day 1] | $5.00 | $300,000 |
| Oct 5 | mini Omaholic Bounty MILLION$, $100K GTD [Stage 1] | $5.25 | $100,000 |
| Oct 5 | mini Global MILLION$, $300K GTD [Day 1] | $5.00 | $300,000 |
| Oct 5 | mini Omaholic Bounty MILLION$, $100K GTD [Stage 1] | $5.25 | $100,000 |
| Oct 5 | mini Global MILLION$, $300K GTD [Day 1] | $5.00 | $300,000 |
| Oct 5 | mini Omaholic Bounty MILLION$, $100K GTD [Stage 1] | $5.25 | $100,000 |
| Oct 5 | mini Global MILLION$, $300K GTD [Day 1] | $5.00 | $300,000 |
| Oct 5 | mini Omaholic Bounty MILLION$, $100K GTD [Stage 1] | $5.25 | $100,000 |
| Oct 5 | mini Global MILLION$, $300K GTD [Day 1] | $5.00 | $300,000 |
| Oct 5 | mini Omaholic Bounty MILLION$, $100K GTD [Stage 1] | $5.25 | $100,000 |
| Oct 5 | mini Global MILLION$, $300K GTD [Day 1] | $5.00 | $300,000 |
| Oct 5 | mini Omaholic Bounty MILLION$, $100K GTD [Stage 1] | $5.25 | $100,000 |
| Oct 5 | $1.88 Asia Kick-Off | $1.88 | $8,000 |
| Oct 5 | mini Global MILLION$, $300K GTD [Day 1] | $5.00 | $300,000 |
| Oct 5 | $2.50 Monster Stack | $2.50 | $10,000 |
| Oct 5 | mini Omaholic Bounty MILLION$, $100K GTD [Stage 1] | $5.25 | $100,000 |
| Oct 5 | $3.15 Bounty Hunters Warm-Up | $3.15 | $15,000 |
| Oct 5 | mini Global MILLION$, $300K GTD [Day 1] | $5.00 | $300,000 |
| Oct 5 | $4.40 Forty Stack | $4.40 | $12,500 |
| Oct 5 | $1.05 Bounty Hunters Big One | $1.05 | $5,000 |
| Oct 5 | mini Omaholic Bounty MILLION$, $100K GTD [Stage 1] | $5.25 | $100,000 |
| Oct 5 | $5.25 Bounty Hunters Mini Main | $5.25 | $30,000 |
| Oct 5 | mini Global MILLION$, $300K GTD [Day 1] | $5.00 | $300,000 |
| Oct 5 | $5 Wednesday Classic | $5.00 | $20,000 |
| Oct 5 | $2.10 Bounty Hunters Big Game | $2.10 | $10,000 |
| Oct 5 | mini Omaholic Bounty MILLION$, $100K GTD [Stage 1] | $5.25 | $100,000 |
| Oct 5 | $10.50 Bounty Hunters Grand Slam | $10.50 | $50,000 |
| Oct 5 | $3.15 Bounty King Baby | $3.15 | $12,000 |
| Oct 5 | mini Global MILLION$, $300K GTD [Day 1] | $5.00 | $300,000 |
| Oct 5 | mini Omaholic Bounty MILLION$, $100K GTD [Stage 1] | $5.25 | $100,000 |
| Oct 5 | $7.77 LUCKY SEVENS Superstack Turbo [7-Max] | $7.77 | $20,000 |
| Oct 5 | mini Global MILLION$, $300K GTD [Day 1] | $5.00 | $300,000 |
| Oct 5 | $1.05 Bounty Hunters Closer | $1.05 | $5,000 |
| Oct 5 | mini Omaholic Bounty MILLION$, $100K GTD [Stage 1] | $5.25 | $100,000 |
| Oct 5 | mini Global MILLION$, $300K GTD [Day 1] | $5.00 | $300,000 |
| Oct 5 | mini Omaholic Bounty MILLION$, $100K GTD [Stage 1] | $5.25 | $100,000 |
| Oct 6 | mini Global MILLION$, $300K GTD [Day 1] | $5.00 | $300,000 |
| Oct 6 | mini Omaholic Bounty MILLION$, $100K GTD [Stage 1] | $5.25 | $100,000 |
| Oct 6 | mini Global MILLION$, $300K GTD [Day 1] | $5.00 | $300,000 |
| Oct 6 | mini Omaholic Bounty MILLION$, $100K GTD [Stage 1] | $5.25 | $100,000 |
| Oct 6 | mini Global MILLION$, $300K GTD [Day 1] | $5.00 | $300,000 |
| Oct 6 | mini Omaholic Bounty MILLION$, $100K GTD [Stage 1] | $5.25 | $100,000 |
| Oct 6 | mini Global MILLION$, $300K GTD [Day 1] | $5.00 | $300,000 |
| Oct 6 | mini Omaholic Bounty MILLION$, $100K GTD [Stage 1] | $5.25 | $100,000 |
| Oct 6 | mini Global MILLION$, $300K GTD [Day 1] | $5.00 | $300,000 |
| Oct 6 | MYSTERY BOUNTY Main Event, $1M GTD [Stage 1] | $10.50 | $1,000,000 |
| Oct 6 | mini Omaholic Bounty MILLION$, $100K GTD [Stage 1] | $5.25 | $100,000 |
| Oct 6 | mini Global MILLION$, $300K GTD [Day 1] | $5.00 | $300,000 |
| Oct 6 | MYSTERY BOUNTY Main Event, $1M GTD [Stage 1] | $10.50 | $1,000,000 |
| Oct 6 | mini Omaholic Bounty MILLION$, $100K GTD [Stage 1] | $5.25 | $100,000 |
| Oct 6 | $1.88 Asia Kick-Off | $1.88 | $8,000 |
| Oct 6 | mini Global MILLION$, $300K GTD [Day 1] | $5.00 | $300,000 |
| Oct 6 | $2.50 Monster Stack | $2.50 | $10,000 |
| Oct 6 | MYSTERY BOUNTY Main Event, $1M GTD [Stage 1] | $10.50 | $1,000,000 |
| Oct 6 | mini Omaholic Bounty MILLION$, $100K GTD [Stage 1] | $5.25 | $100,000 |
| Oct 6 | $3.15 Bounty Hunters Warm-Up | $3.15 | $15,000 |
| Oct 6 | mini Global MILLION$, $300K GTD [Day 1] | $5.00 | $300,000 |
| Oct 6 | $4.40 Forty Stack | $4.40 | $12,500 |
| Oct 6 | $1.05 Bounty Hunters Big One | $1.05 | $5,000 |
| Oct 6 | MYSTERY BOUNTY Main Event, $1M GTD [Stage 1] | $10.50 | $1,000,000 |
| Oct 6 | mini Omaholic Bounty MILLION$, $100K GTD [Stage 1] | $5.25 | $100,000 |
| Oct 6 | $5.25 Bounty Hunters Mini Main | $5.25 | $30,000 |
| Oct 6 | mini Global MILLION$, $300K GTD [Day 1] | $5.00 | $300,000 |
| Oct 6 | $5 Thursday Classic | $5.00 | $20,000 |
| Oct 6 | $2.10 Bounty Hunters Big Game | $2.10 | $10,000 |
| Oct 6 | MYSTERY BOUNTY Main Event, $1M GTD [Stage 1] | $10.50 | $1,000,000 |
| Oct 6 | mini Omaholic Bounty MILLION$, $100K GTD [Stage 1] | $5.25 | $100,000 |
| Oct 6 | $10.50 Bounty Hunters Grand Slam | $10.50 | $50,000 |
| Oct 6 | $3.15 Bounty King Baby | $3.15 | $12,000 |
| Oct 6 | mini Global MILLION$, $300K GTD [Day 1] | $5.00 | $300,000 |
| Oct 6 | MYSTERY BOUNTY Main Event, $1M GTD [Stage 1] | $10.50 | $1,000,000 |
| Oct 6 | mini Omaholic Bounty MILLION$, $100K GTD [Stage 1] | $5.25 | $100,000 |
| Oct 6 | $7.77 LUCKY SEVENS Superstack Turbo [7-Max] | $7.77 | $20,000 |
| Oct 6 | mini Global MILLION$, $300K GTD [Day 1] | $5.00 | $300,000 |
| Oct 6 | $1.05 Bounty Hunters Closer | $1.05 | $5,000 |
| Oct 6 | MYSTERY BOUNTY Main Event, $1M GTD [Stage 1] | $10.50 | $1,000,000 |
| Oct 6 | mini Omaholic Bounty MILLION$, $100K GTD [Stage 1] | $5.25 | $100,000 |
| Oct 6 | mini Global MILLION$, $300K GTD [Day 1] | $5.00 | $300,000 |
| Oct 6 | MYSTERY BOUNTY Main Event, $1M GTD [Stage 1] | $10.50 | $1,000,000 |
| Oct 6 | mini Omaholic Bounty MILLION$, $100K GTD [Stage 1] | $5.25 | $100,000 |
| Oct 7 | mini Global MILLION$, $300K GTD [Day 1] | $5.00 | $300,000 |
| Oct 7 | MYSTERY BOUNTY Main Event, $1M GTD [Stage 1] | $10.50 | $1,000,000 |
| Oct 7 | mini Omaholic Bounty MILLION$, $100K GTD [Stage 1] | $5.25 | $100,000 |
| Oct 7 | mini Global MILLION$, $300K GTD [Day 1] | $5.00 | $300,000 |
| Oct 7 | MYSTERY BOUNTY Main Event, $1M GTD [Stage 1] | $10.50 | $1,000,000 |
| Oct 7 | mini Omaholic Bounty MILLION$, $100K GTD [Stage 1] | $5.25 | $100,000 |
| Oct 7 | mini Global MILLION$, $300K GTD [Day 1] | $5.00 | $300,000 |
| Oct 7 | MYSTERY BOUNTY Main Event, $1M GTD [Stage 1] | $10.50 | $1,000,000 |
| Oct 7 | mini Omaholic Bounty MILLION$, $100K GTD [Stage 1] | $5.25 | $100,000 |
| Oct 7 | mini Global MILLION$, $300K GTD [Day 1] | $5.00 | $300,000 |
| Oct 7 | MYSTERY BOUNTY Main Event, $1M GTD [Stage 1] | $10.50 | $1,000,000 |
| Oct 7 | mini Omaholic Bounty MILLION$, $100K GTD [Stage 1] | $5.25 | $100,000 |
| Oct 7 | mini Global MILLION$, $300K GTD [Day 1] | $5.00 | $300,000 |
| Oct 7 | MYSTERY BOUNTY Main Event, $1M GTD [Stage 1] | $10.50 | $1,000,000 |
| Oct 7 | mini Omaholic Bounty MILLION$, $100K GTD [Stage 1] | $5.25 | $100,000 |
| Oct 7 | $1 Flip & Go Friday [Flip Stage] | $1.00 | $25,000 |
| Oct 7 | mini Global MILLION$, $300K GTD [Day 1] | $5.00 | $300,000 |
| Oct 7 | $1 Flip & Go Friday [Flip Stage] | $1.00 | $25,000 |
| Oct 7 | MYSTERY BOUNTY Main Event, $1M GTD [Stage 1] | $10.50 | $1,000,000 |
| Oct 7 | mini Omaholic Bounty MILLION$, $100K GTD [Stage 1] | $5.25 | $100,000 |
| Oct 7 | $1.88 Asia Kick-Off | $1.88 | $8,000 |
| Oct 7 | $1 Flip & Go Friday [Flip Stage] | $1.00 | $25,000 |
| Oct 7 | mini Global MILLION$, $300K GTD [Day 1] | $5.00 | $300,000 |
| Oct 7 | $2.50 Monster Stack | $2.50 | $10,000 |
| Oct 7 | $1 Flip & Go Friday [Flip Stage] | $1.00 | $25,000 |
| Oct 7 | MYSTERY BOUNTY Main Event, $1M GTD [Stage 1] | $10.50 | $1,000,000 |
| Oct 7 | mini Omaholic Bounty MILLION$, $100K GTD [Stage 1] | $5.25 | $100,000 |
| Oct 7 | $3.15 Bounty Hunters Warm-Up | $3.15 | $15,000 |
| Oct 7 | $1 Flip & Go Friday [Flip Stage] | $1.00 | $25,000 |
| Oct 7 | mini Global MILLION$, $300K GTD [Day 1] | $5.00 | $300,000 |
| Oct 7 | $4.40 Forty Stack | $4.40 | $12,500 |
| Oct 7 | $1 Flip & Go Friday [Flip Stage] | $1.00 | $25,000 |
| Oct 7 | $1.05 Bounty Hunters Big One | $1.05 | $5,000 |
| Oct 7 | MYSTERY BOUNTY Main Event, $1M GTD [Stage 1] | $10.50 | $1,000,000 |
| Oct 7 | mini Omaholic Bounty MILLION$, $100K GTD [Stage 1] | $5.25 | $100,000 |
| Oct 7 | $1 Flip & Go Friday [Flip Stage] | $1.00 | $25,000 |
| Oct 7 | $1 Flip & Go Friday [Flip Stage] | $1.00 | $25,000 |
| Oct 7 | $5.25 Bounty Hunters Mini Main | $5.25 | $30,000 |
| Oct 7 | mini Global MILLION$, $300K GTD [Day 1] | $5.00 | $300,000 |
| Oct 7 | $1 Flip & Go Friday [Flip Stage] | $1.00 | $25,000 |
| Oct 7 | $5 Friday Classic | $5.00 | $20,000 |
| Oct 7 | $1 Flip & Go Friday [Flip Stage] | $1.00 | $25,000 |
| Oct 7 | $1 Flip & Go Friday [Flip Stage] | $1.00 | $25,000 |
| Oct 7 | $2.10 Bounty Hunters Big Game | $2.10 | $10,000 |
| Oct 7 | MYSTERY BOUNTY Main Event, $1M GTD [Stage 1] | $10.50 | $1,000,000 |
| Oct 7 | mini Omaholic Bounty MILLION$, $100K GTD [Stage 1] | $5.25 | $100,000 |
| Oct 7 | $1 Flip & Go Friday [Flip Stage] | $1.00 | $25,000 |
| Oct 7 | $10.50 Bounty Hunters Grand Slam | $10.50 | $50,000 |
| Oct 7 | $1 Flip & Go Friday [Flip Stage] | $1.00 | $25,000 |
| Oct 7 | $1 Flip & Go Friday [Flip Stage] | $1.00 | $25,000 |
| Oct 7 | $1 Flip & Go Friday [Flip Stage] | $1.00 | $25,000 |
| Oct 7 | $3.15 Bounty King Baby | $3.15 | $12,000 |
| Oct 7 | mini Global MILLION$, $300K GTD [Day 1] | $5.00 | $300,000 |
| Oct 7 | $1 Flip & Go Friday [Flip Stage] | $1.00 | $25,000 |
| Oct 7 | $1 Flip & Go Friday [Flip Stage] | $1.00 | $25,000 |
| Oct 7 | $1 Flip & Go Friday [Last Flip Stage] | $1.00 | $25,000 |
| Oct 7 | $1 Flip & Go Friday [Go Stage] | $1.00 | $25,000 |
| Oct 7 | MYSTERY BOUNTY Main Event, $1M GTD [Stage 1] | $10.50 | $1,000,000 |
| Oct 7 | mini Omaholic Bounty MILLION$, $100K GTD [Stage 1] | $5.25 | $100,000 |
| Oct 7 | $7.77 LUCKY SEVENS Superstack Turbo [7-Max] | $7.77 | $20,000 |
| Oct 7 | mini Global MILLION$, $300K GTD [Day 1] | $5.00 | $300,000 |
| Oct 7 | $1.05 Bounty Hunters Closer | $1.05 | $5,000 |
| Oct 7 | MYSTERY BOUNTY Main Event, $1M GTD [Stage 1] | $10.50 | $1,000,000 |
| Oct 7 | mini Omaholic Bounty MILLION$, $100K GTD [Stage 1] | $5.25 | $100,000 |
| Oct 7 | mini Global MILLION$, $300K GTD [Day 1] | $5.00 | $300,000 |
| Oct 7 | MYSTERY BOUNTY Main Event, $1M GTD [Stage 1] | $10.50 | $1,000,000 |
| Oct 7 | mini Omaholic Bounty MILLION$, $100K GTD [Stage 1] | $5.25 | $100,000 |
| Oct 8 | mini Global MILLION$, $300K GTD [Day 1] | $5.00 | $300,000 |
| Oct 8 | MYSTERY BOUNTY Main Event, $1M GTD [Stage 1] | $10.50 | $1,000,000 |
| Oct 8 | mini Omaholic Bounty MILLION$, $100K GTD [Stage 1] | $5.25 | $100,000 |
| Oct 8 | mini Global MILLION$, $300K GTD [Day 1] | $5.00 | $300,000 |
| Oct 8 | MYSTERY BOUNTY Main Event, $1M GTD [Stage 1] | $10.50 | $1,000,000 |
| Oct 8 | mini Omaholic Bounty MILLION$, $100K GTD [Stage 1] | $5.25 | $100,000 |
| Oct 8 | mini Global MILLION$, $300K GTD [Day 1] | $5.00 | $300,000 |
| Oct 8 | MYSTERY BOUNTY Main Event, $1M GTD [Stage 1] | $10.50 | $1,000,000 |
| Oct 8 | mini Omaholic Bounty MILLION$, $100K GTD [Stage 1] | $5.25 | $100,000 |
| Oct 8 | mini Global MILLION$, $300K GTD [Day 1] | $5.00 | $300,000 |
| Oct 8 | MYSTERY BOUNTY Main Event, $1M GTD [Stage 1] | $10.50 | $1,000,000 |
| Oct 8 | mini Omaholic Bounty MILLION$, $100K GTD [Stage 1] | $5.25 | $100,000 |
| Oct 8 | mini Global MILLION$, $300K GTD [Day 1] | $5.00 | $300,000 |
| Oct 8 | MYSTERY BOUNTY Main Event, $1M GTD [Stage 1] | $10.50 | $1,000,000 |
| Oct 8 | mini Omaholic Bounty MILLION$, $100K GTD [Stage 1] | $5.25 | $100,000 |
| Oct 8 | mini Global MILLION$, $300K GTD [Day 1] | $5.00 | $300,000 |
| Oct 8 | MYSTERY BOUNTY Main Event, $1M GTD [Stage 1] | $10.50 | $1,000,000 |
| Oct 8 | mini Omaholic Bounty MILLION$, $100K GTD [Stage 1] | $5.25 | $100,000 |
| Oct 8 | $1.88 Asia Kick-Off | $1.88 | $8,000 |
| Oct 8 | mini Global MILLION$, $300K GTD [Day 1] | $5.00 | $300,000 |
| Oct 8 | $2.50 Monster Stack | $2.50 | $10,000 |
| Oct 8 | MYSTERY BOUNTY Main Event, $1M GTD [Stage 1] | $10.50 | $1,000,000 |
| Oct 8 | mini Omaholic Bounty MILLION$, $100K GTD [Stage 1] | $5.25 | $100,000 |
| Oct 8 | $3.15 Bounty Hunters Warm-Up | $3.15 | $15,000 |
| Oct 8 | mini Global MILLION$, $300K GTD [Day 1] | $5.00 | $300,000 |
| Oct 8 | $4.40 Forty Stack | $4.40 | $12,500 |
| Oct 8 | $1.05 Bounty Hunters Big One | $1.05 | $5,000 |
| Oct 8 | MYSTERY BOUNTY Main Event, $1M GTD [Stage 1] | $10.50 | $1,000,000 |
| Oct 8 | mini Omaholic Bounty MILLION$, $100K GTD [Stage 1] | $5.25 | $100,000 |
| Oct 8 | $5.25 Bounty Hunters Mini Main | $5.25 | $30,000 |
| Oct 8 | mini Global MILLION$, $300K GTD [Day 1] | $5.00 | $300,000 |
| Oct 8 | $5 Saturday Classic | $5.00 | $20,000 |
| Oct 8 | $2.10 Bounty Hunters Big Game | $2.10 | $10,000 |
| Oct 8 | MYSTERY BOUNTY Main Event, $1M GTD [Stage 1] | $10.50 | $1,000,000 |
| Oct 8 | mini Omaholic Bounty MILLION$, $100K GTD [Stage 1] | $5.25 | $100,000 |
| Oct 8 | $10.50 Bounty Hunters Grand Slam | $10.50 | $50,000 |
| Oct 8 | $3.15 Bounty King Baby | $3.15 | $12,000 |
| Oct 8 | mini Global MILLION$, $300K GTD [Day 1] | $5.00 | $300,000 |
| Oct 8 | MYSTERY BOUNTY Main Event, $1M GTD [Stage 1] | $10.50 | $1,000,000 |
| Oct 8 | mini Omaholic Bounty MILLION$, $100K GTD [Stage 1] | $5.25 | $100,000 |
| Oct 8 | $7.77 LUCKY SEVENS Superstack Turbo [7-Max] | $7.77 | $20,000 |
| Oct 8 | mini Global MILLION$, $300K GTD [Day 1] | $5.00 | $300,000 |
| Oct 8 | $1.05 Bounty Hunters Closer | $1.05 | $5,000 |
| Oct 8 | MYSTERY BOUNTY Main Event, $1M GTD [Stage 1] | $10.50 | $1,000,000 |
| Oct 8 | mini Omaholic Bounty MILLION$, $100K GTD [Stage 1] | $5.25 | $100,000 |
| Oct 8 | mini Global MILLION$, $300K GTD [Day 1] | $5.00 | $300,000 |
| Oct 8 | MYSTERY BOUNTY Main Event, $1M GTD [Stage 1] | $10.50 | $1,000,000 |
| Oct 8 | mini Omaholic Bounty MILLION$, $100K GTD [Stage 1] | $5.25 | $100,000 |
| Oct 9 | mini Global MILLION$, $300K GTD [Day 1] | $5.00 | $300,000 |
| Oct 9 | MYSTERY BOUNTY Main Event, $1M GTD [Stage 1] | $10.50 | $1,000,000 |
| Oct 9 | mini Omaholic Bounty MILLION$, $100K GTD [Stage 1] | $5.25 | $100,000 |
| Oct 9 | mini Global MILLION$, $300K GTD [Day 1] | $5.00 | $300,000 |
| Oct 9 | MYSTERY BOUNTY Main Event, $1M GTD [Stage 1] | $10.50 | $1,000,000 |
| Oct 9 | mini Omaholic Bounty MILLION$, $100K GTD [Stage 1] | $5.25 | $100,000 |
| Oct 9 | mini Global MILLION$, $300K GTD [Day 1] | $5.00 | $300,000 |
| Oct 9 | MYSTERY BOUNTY Main Event, $1M GTD [Stage 1] | $10.50 | $1,000,000 |
| Oct 9 | mini Omaholic Bounty MILLION$, $100K GTD [Stage 1] | $5.25 | $100,000 |
| Oct 9 | mini Global MILLION$, $300K GTD [Day 1] | $5.00 | $300,000 |
| Oct 9 | MYSTERY BOUNTY Main Event, $1M GTD [Stage 1] | $10.50 | $1,000,000 |
| Oct 9 | mini Omaholic Bounty MILLION$, $100K GTD [Stage 1] | $5.25 | $100,000 |
| Oct 9 | mini Global MILLION$, $300K GTD [Day 1] | $5.00 | $300,000 |
| Oct 9 | MYSTERY BOUNTY Main Event, $1M GTD [Stage 1] | $10.50 | $1,000,000 |
| Oct 9 | mini Omaholic Bounty MILLION$, $100K GTD [Stage 1] | $5.25 | $100,000 |
| Oct 9 | mini Global MILLION$, $300K GTD [Day 1] | $5.00 | $300,000 |
| Oct 9 | MYSTERY BOUNTY Main Event, $1M GTD [Stage 1] | $10.50 | $1,000,000 |
| Oct 9 | mini Omaholic Bounty MILLION$, $100K GTD [Stage 1] | $5.25 | $100,000 |
| Oct 9 | $1.88 Sunday Asia Kick-Off | $1.88 | $10,000 |
| Oct 9 | mini Global MILLION$, $300K GTD [Day 1] | $5.00 | $300,000 |
| Oct 9 | $2.50 Sunday Monster Stack | $2.50 | $15,000 |
| Oct 9 | $10.50 Sunday Bounty Blast | $10.50 | $60,000 |
| Oct 9 | MYSTERY BOUNTY Main Event, $1M GTD [Stage 1] | $10.50 | $1,000,000 |
| Oct 9 | mini Omaholic Bounty MILLION$, $100K GTD [Stage 1] | $5.25 | $100,000 |
| Oct 9 | $3.15 Sunday Bounty Hunters Warm-Up | $3.15 | $20,000 |
| Oct 9 | $8.40 Sunday Bounty Hunters Special | $8.40 | $50,000 |
| Oct 9 | mini Global MILLION$, $300K GTD [Day 1] | $5.00 | $300,000 |
| Oct 9 | $1.05 Bounty Hunters Sunday Big One | $1.05 | $8,000 |
| Oct 9 | mini Omaholic Bounty MILLION$, $100K GTD [Stage 1] | $5.25 | $100,000 |
| Oct 9 | $8.88 Sunday CRAZY EIGHTS | $8.88 | $50,000 |
| Oct 9 | $5.25 Bounty Hunters Sunday Main | $5.25 | $50,000 |
| Oct 9 | mini Global MILLION$, $300K GTD [Day 1] | $5.00 | $300,000 |
| Oct 9 | $2.10 Bounty Hunters Sunday Big Game | $2.10 | $15,000 |
| Oct 9 | MYSTERY BOUNTY Main Event, $1M GTD [Stage 1] | $10.50 | $1,000,000 |
| Oct 9 | mini Omaholic Bounty MILLION$, $100K GTD [Stage 1] | $5.25 | $100,000 |
| Oct 9 | $11 Sunday Hundred Grand, $101K GTD | $11.00 | $101,000 |
| Oct 9 | $3.15 Sunday Bounty King Baby | $3.15 | $20,000 |
| Oct 9 | mini Global MILLION$, $300K GTD [Day 1] | $5.00 | $300,000 |
| Oct 9 | $10.50 Bounty Hunters Sunday Special | $10.50 | $60,000 |
| Oct 9 | mini Omaholic Bounty MILLION$, $100K GTD [Stage 1] | $5.25 | $100,000 |
| Oct 9 | $7.77 LUCKY SEVENS Sunday Turbo [7-Max] | $7.77 | $30,000 |
| Oct 9 | mini Global MILLION$, $300K GTD [Day 1] | $5.00 | $300,000 |
| Oct 9 | $1.05 Bounty Hunters Sunday Closer | $1.05 | $6,000 |
| Oct 9 | MYSTERY BOUNTY Main Event, $1M GTD [Stage 1] | $10.50 | $1,000,000 |
| Oct 9 | mini Omaholic Bounty MILLION$, $100K GTD [Stage 1] | $5.25 | $100,000 |
| Oct 9 | mini Global MILLION$, $300K GTD [Day 1] | $5.00 | $300,000 |
| Oct 9 | MYSTERY BOUNTY Main Event, $1M GTD [Stage 1] | $10.50 | $1,000,000 |
| Oct 9 | mini Omaholic Bounty MILLION$, $100K GTD [Stage 1] | $5.25 | $100,000 |
| Oct 10 | mini Global MILLION$, $300K GTD [Day 1] | $5.00 | $300,000 |
| Oct 10 | MYSTERY BOUNTY Main Event, $1M GTD [Stage 1] | $10.50 | $1,000,000 |
| Oct 10 | mini Omaholic Bounty MILLION$, $100K GTD [Stage 1] | $5.25 | $100,000 |
| Oct 10 | mini Global MILLION$, $300K GTD [Day 1] | $5.00 | $300,000 |
| Oct 10 | MYSTERY BOUNTY Main Event, $1M GTD [Stage 1] | $10.50 | $1,000,000 |
| Oct 10 | mini Omaholic Bounty MILLION$, $100K GTD [Stage 1] | $5.25 | $100,000 |
| Oct 10 | mini Global MILLION$, $300K GTD [Day 1] | $5.00 | $300,000 |
| Oct 10 | MYSTERY BOUNTY Main Event, $1M GTD [Stage 1] | $10.50 | $1,000,000 |
| Oct 10 | mini Omaholic Bounty MILLION$, $100K GTD [Stage 1] | $5.25 | $100,000 |
| Oct 10 | mini Global MILLION$, $300K GTD [Day 1] | $5.00 | $300,000 |
| Oct 10 | MYSTERY BOUNTY Main Event, $1M GTD [Stage 1] | $10.50 | $1,000,000 |
| Oct 10 | mini Omaholic Bounty MILLION$, $100K GTD [Stage 1] | $5.25 | $100,000 |
| Oct 10 | mini Global MILLION$, $300K GTD [Day 1] | $5.00 | $300,000 |
| Oct 10 | MYSTERY BOUNTY Main Event, $1M GTD [Stage 1] | $10.50 | $1,000,000 |
| Oct 10 | mini Omaholic Bounty MILLION$, $100K GTD [Stage 1] | $5.25 | $100,000 |
| Oct 10 | mini Global MILLION$, $300K GTD [Day 1] | $5.00 | $300,000 |
| Oct 10 | MYSTERY BOUNTY Main Event, $1M GTD [Stage 1] | $10.50 | $1,000,000 |
| Oct 10 | mini Omaholic Bounty MILLION$, $100K GTD [Stage 1] | $5.25 | $100,000 |
| Oct 10 | $1.88 Asia Kick-Off | $1.88 | $8,000 |
| Oct 10 | mini Global MILLION$, $300K GTD [Day 1] | $5.00 | $300,000 |
| Oct 10 | $2.50 Monster Stack | $2.50 | $10,000 |
| Oct 10 | mini Omaholic Bounty MILLION$, $100K GTD [Stage 1] | $5.25 | $100,000 |
| Oct 10 | MYSTERY BOUNTY Main Event, $1M GTD [Stage 1] | $10.50 | $1,000,000 |
| Oct 10 | $3.15 Bounty Hunters Warm-Up | $3.15 | $15,000 |
| Oct 10 | mini Global MILLION$, $300K GTD [Day 1] | $5.00 | $300,000 |
| Oct 10 | $4.40 Forty Stack | $4.40 | $12,500 |
| Oct 10 | mini Omaholic Bounty MILLION$, $100K GTD [Stage 1] | $5.25 | $100,000 |
| Oct 10 | $1.05 Bounty Hunters Big One | $1.05 | $5,000 |
| Oct 10 | MYSTERY BOUNTY Main Event, $1M GTD [Stage 1] | $10.50 | $1,000,000 |
| Oct 10 | mini Global MILLION$, $300K GTD [Last Chance] | $5.00 | $300,000 |
| Oct 10 | $5.25 Bounty Hunters Mini Main | $5.25 | $30,000 |
| Oct 10 | mini Omaholic Bounty MILLION$, $100K GTD [Last Chance] | $5.25 | $100,000 |
| Oct 10 | $5 Monday Classic | $5.00 | $20,000 |
| Oct 10 | mini Global MILLION$, $300K GTD [Last Minute] | $5.00 | $300,000 |
| Oct 10 | $2.10 Bounty Hunters Big Game | $2.10 | $10,000 |
| Oct 10 | MYSTERY BOUNTY Main Event, $1M GTD [Stage 1] | $10.50 | $1,000,000 |
| Oct 10 | mini Omaholic Bounty MILLION$, $100K GTD [Last Minute] | $5.25 | $100,000 |
| Oct 10 | $10.50 Bounty Hunters Grand Slam | $10.50 | $50,000 |
| Oct 10 | $3.15 Bounty King Baby | $3.15 | $12,000 |
| Oct 10 | mini Global MILLION$, $300K GTD [Final Day] | $5.00 | $300,000 |
| Oct 10 | mini Omaholic Bounty MILLION$, $100K GTD [Final Stage] | $5.25 | $100,000 |
| Oct 10 | MYSTERY BOUNTY Main Event, $1M GTD [Stage 1] | $10.50 | $1,000,000 |
| Oct 10 | $7.77 LUCKY SEVENS Superstack Turbo [7-Max] | $7.77 | $20,000 |
| Oct 10 | $1.05 Bounty Hunters Closer | $1.05 | $5,000 |
| Oct 10 | MYSTERY BOUNTY Main Event, $1M GTD [Stage 1] | $10.50 | $1,000,000 |
| Oct 10 | MYSTERY BOUNTY Main Event, $1M GTD [Stage 1] | $10.50 | $1,000,000 |
| Oct 11 | MYSTERY BOUNTY Main Event, $1M GTD [Stage 1] | $10.50 | $1,000,000 |
| Oct 11 | MYSTERY BOUNTY Main Event, $1M GTD [Stage 1] | $10.50 | $1,000,000 |
| Oct 11 | MYSTERY BOUNTY Main Event, $1M GTD [Stage 1] | $10.50 | $1,000,000 |
| Oct 11 | MYSTERY BOUNTY Main Event, $1M GTD [Stage 1] | $10.50 | $1,000,000 |
| Oct 11 | MYSTERY BOUNTY Main Event, $1M GTD [Stage 1] | $10.50 | $1,000,000 |
| Oct 11 | MYSTERY BOUNTY Main Event, $1M GTD [Stage 1] | $10.50 | $1,000,000 |
| Oct 11 | $1.88 Asia Kick-Off | $1.88 | $8,000 |
| Oct 11 | $2.50 Monster Stack | $2.50 | $10,000 |
| Oct 11 | MYSTERY BOUNTY Main Event, $1M GTD [Stage 1] | $10.50 | $1,000,000 |
| Oct 11 | $3.15 Bounty Hunters Warm-Up | $3.15 | $15,000 |
| Oct 11 | $4.40 Forty Stack | $4.40 | $12,500 |
| Oct 11 | $1.05 Bounty Hunters Big One | $1.05 | $5,000 |
| Oct 11 | MYSTERY BOUNTY Main Event, $1M GTD [Stage 1] | $10.50 | $1,000,000 |
| Oct 11 | $5.25 Bounty Hunters Mini Main | $5.25 | $30,000 |
| Oct 11 | $5 Tuesday Classic | $5.00 | $20,000 |
| Oct 11 | $2.10 Bounty Hunters Big Game | $2.10 | $10,000 |
| Oct 11 | MYSTERY BOUNTY Main Event, $1M GTD [Stage 1] | $10.50 | $1,000,000 |
| Oct 11 | $10.50 Bounty Hunters Grand Slam | $10.50 | $50,000 |
| Oct 11 | $3.15 Bounty King Baby | $3.15 | $12,000 |
| Oct 11 | MYSTERY BOUNTY Main Event, $1M GTD [Stage 1] | $10.50 | $1,000,000 |
| Oct 11 | $7.77 LUCKY SEVENS Superstack Turbo [7-Max] | $7.77 | $20,000 |
| Oct 11 | $1.05 Bounty Hunters Closer | $1.05 | $5,000 |
| Oct 11 | MYSTERY BOUNTY Main Event, $1M GTD [Stage 1] | $10.50 | $1,000,000 |
| Oct 11 | MYSTERY BOUNTY Main Event, $1M GTD [Stage 1] | $10.50 | $1,000,000 |
| Oct 12 | MYSTERY BOUNTY Main Event, $1M GTD [Stage 1] | $10.50 | $1,000,000 |
| Oct 12 | MYSTERY BOUNTY Main Event, $1M GTD [Stage 1] | $10.50 | $1,000,000 |
| Oct 12 | MYSTERY BOUNTY Main Event, $1M GTD [Stage 1] | $10.50 | $1,000,000 |
| Oct 12 | MYSTERY BOUNTY Main Event, $1M GTD [Stage 1] | $10.50 | $1,000,000 |
| Oct 12 | MYSTERY BOUNTY Main Event, $1M GTD [Stage 1] | $10.50 | $1,000,000 |
| Oct 12 | MYSTERY BOUNTY Main Event, $1M GTD [Stage 1] | $10.50 | $1,000,000 |
| Oct 12 | $1.88 Asia Kick-Off | $1.88 | $8,000 |
| Oct 12 | $2.50 Monster Stack | $2.50 | $10,000 |
| Oct 12 | MYSTERY BOUNTY Main Event, $1M GTD [Stage 1] | $10.50 | $1,000,000 |
| Oct 12 | $3.15 Bounty Hunters Warm-Up | $3.15 | $15,000 |
| Oct 12 | $4.40 Forty Stack | $4.40 | $12,500 |
| Oct 12 | $1.05 Bounty Hunters Big One | $1.05 | $5,000 |
| Oct 12 | MYSTERY BOUNTY Main Event, $1M GTD [Stage 1] | $10.50 | $1,000,000 |
| Oct 12 | $5.25 Bounty Hunters Mini Main | $5.25 | $30,000 |
| Oct 12 | $5 Wednesday Classic | $5.00 | $20,000 |
| Oct 12 | $2.10 Bounty Hunters Big Game | $2.10 | $10,000 |
| Oct 12 | MYSTERY BOUNTY Main Event, $1M GTD [Stage 1] | $10.50 | $1,000,000 |
| Oct 12 | $10.50 Bounty Hunters Grand Slam | $10.50 | $50,000 |
| Oct 12 | $3.15 Bounty King Baby | $3.15 | $12,000 |
| Oct 12 | MYSTERY BOUNTY Main Event, $1M GTD [Stage 1] | $10.50 | $1,000,000 |
| Oct 12 | $7.77 LUCKY SEVENS Superstack Turbo [7-Max] | $7.77 | $20,000 |
| Oct 12 | $1.05 Bounty Hunters Closer | $1.05 | $5,000 |
| Oct 12 | MYSTERY BOUNTY Main Event, $1M GTD [Stage 1] | $10.50 | $1,000,000 |
| Oct 12 | MYSTERY BOUNTY Main Event, $1M GTD [Stage 1] | $10.50 | $1,000,000 |
| Oct 12 | MYSTERY BOUNTY Main Event, $1M GTD [Stage 1] | $10.50 | $1,000,000 |
| Oct 13 | MYSTERY BOUNTY Main Event, $1M GTD [Stage 1] | $10.50 | $1,000,000 |
| Oct 13 | MYSTERY BOUNTY Main Event, $1M GTD [Stage 1] | $10.50 | $1,000,000 |
| Oct 13 | MYSTERY BOUNTY Main Event, $1M GTD [Stage 1] | $10.50 | $1,000,000 |
| Oct 13 | MYSTERY BOUNTY Main Event, $1M GTD [Stage 1] | $10.50 | $1,000,000 |
| Oct 13 | MYSTERY BOUNTY Main Event, $1M GTD [Stage 1] | $10.50 | $1,000,000 |
| Oct 13 | $1.88 Asia Kick-Off | $1.88 | $8,000 |
| Oct 13 | $2.50 Monster Stack | $2.50 | $10,000 |
| Oct 13 | MYSTERY BOUNTY Main Event, $1M GTD [Stage 1] | $10.50 | $1,000,000 |
| Oct 13 | $3.15 Bounty Hunters Warm-Up | $3.15 | $15,000 |
| Oct 13 | $4.40 Forty Stack | $4.40 | $12,500 |
| Oct 13 | $1.05 Bounty Hunters Big One | $1.05 | $5,000 |
| Oct 13 | MYSTERY BOUNTY Main Event, $1M GTD [Stage 1] | $10.50 | $1,000,000 |
| Oct 13 | $5.25 Bounty Hunters Mini Main | $5.25 | $30,000 |
| Oct 13 | $5 Thursday Classic | $5.00 | $20,000 |
| Oct 13 | $2.10 Bounty Hunters Big Game | $2.10 | $10,000 |
| Oct 13 | MYSTERY BOUNTY Main Event, $1M GTD [Stage 1] | $10.50 | $1,000,000 |
| Oct 13 | $10.50 Bounty Hunters Grand Slam | $10.50 | $50,000 |
| Oct 13 | $3.15 Bounty King Baby | $3.15 | $12,000 |
| Oct 13 | MYSTERY BOUNTY Main Event, $1M GTD [Stage 1] | $10.50 | $1,000,000 |
| Oct 13 | $7.77 LUCKY SEVENS Superstack Turbo [7-Max] | $7.77 | $20,000 |
| Oct 13 | $1.05 Bounty Hunters Closer | $1.05 | $5,000 |
| Oct 13 | MYSTERY BOUNTY Main Event, $1M GTD [Stage 1] | $10.50 | $1,000,000 |
| Oct 13 | MYSTERY BOUNTY Main Event, $1M GTD [Stage 1] | $10.50 | $1,000,000 |
| Oct 14 | MYSTERY BOUNTY Main Event, $1M GTD [Stage 1] | $10.50 | $1,000,000 |
| Oct 14 | MYSTERY BOUNTY Main Event, $1M GTD [Stage 1] | $10.50 | $1,000,000 |
| Oct 14 | MYSTERY BOUNTY Main Event, $1M GTD [Stage 1] | $10.50 | $1,000,000 |
| Oct 14 | MYSTERY BOUNTY Main Event, $1M GTD [Stage 1] | $10.50 | $1,000,000 |
| Oct 14 | MYSTERY BOUNTY Main Event, $1M GTD [Stage 1] | $10.50 | $1,000,000 |
| Oct 14 | $1 Flip & Go Friday [Flip Stage] | $1.00 | $25,000 |
| Oct 14 | $1 Flip & Go Friday [Flip Stage] | $1.00 | $25,000 |
| Oct 14 | MYSTERY BOUNTY Main Event, $1M GTD [Stage 1] | $10.50 | $1,000,000 |
| Oct 14 | $1.88 Asia Kick-Off | $1.88 | $8,000 |
| Oct 14 | $1 Flip & Go Friday [Flip Stage] | $1.00 | $25,000 |
| Oct 14 | $2.50 Monster Stack | $2.50 | $10,000 |
| Oct 14 | $1 Flip & Go Friday [Flip Stage] | $1.00 | $25,000 |
| Oct 14 | MYSTERY BOUNTY Main Event, $1M GTD [Stage 1] | $10.50 | $1,000,000 |
| Oct 14 | $3.15 Bounty Hunters Warm-Up | $3.15 | $15,000 |
| Oct 14 | $1 Flip & Go Friday [Flip Stage] | $1.00 | $25,000 |
| Oct 14 | $4.40 Forty Stack | $4.40 | $12,500 |
| Oct 14 | $1 Flip & Go Friday [Flip Stage] | $1.00 | $25,000 |
| Oct 14 | $1.05 Bounty Hunters Big One | $1.05 | $5,000 |
| Oct 14 | MYSTERY BOUNTY Main Event, $1M GTD [Stage 1] | $10.50 | $1,000,000 |
| Oct 14 | $1 Flip & Go Friday [Flip Stage] | $1.00 | $25,000 |
| Oct 14 | $1 Flip & Go Friday [Flip Stage] | $1.00 | $25,000 |
| Oct 14 | $5.25 Bounty Hunters Mini Main | $5.25 | $30,000 |
| Oct 14 | $1 Flip & Go Friday [Flip Stage] | $1.00 | $25,000 |
| Oct 14 | $5 Friday Classic | $5.00 | $20,000 |
| Oct 14 | $1 Flip & Go Friday [Flip Stage] | $1.00 | $25,000 |
| Oct 14 | $1 Flip & Go Friday [Flip Stage] | $1.00 | $25,000 |
| Oct 14 | $2.10 Bounty Hunters Big Game | $2.10 | $10,000 |
| Oct 14 | MYSTERY BOUNTY Main Event, $1M GTD [Stage 1] | $10.50 | $1,000,000 |
| Oct 14 | $1 Flip & Go Friday [Flip Stage] | $1.00 | $25,000 |
| Oct 14 | $10.50 Bounty Hunters Grand Slam | $10.50 | $50,000 |
| Oct 14 | $1 Flip & Go Friday [Flip Stage] | $1.00 | $25,000 |
| Oct 14 | $1 Flip & Go Friday [Flip Stage] | $1.00 | $25,000 |
| Oct 14 | $1 Flip & Go Friday [Flip Stage] | $1.00 | $25,000 |
| Oct 14 | $3.15 Bounty King Baby | $3.15 | $12,000 |
| Oct 14 | $1 Flip & Go Friday [Flip Stage] | $1.00 | $25,000 |
| Oct 14 | $1 Flip & Go Friday [Flip Stage] | $1.00 | $25,000 |
| Oct 14 | $1 Flip & Go Friday [Last Flip Stage] | $1.00 | $25,000 |
| Oct 14 | $1 Flip & Go Friday [Go Stage] | $1.00 | $25,000 |
| Oct 14 | MYSTERY BOUNTY Main Event, $1M GTD [Stage 1] | $10.50 | $1,000,000 |
| Oct 14 | $7.77 LUCKY SEVENS Superstack Turbo [7-Max] | $7.77 | $20,000 |
| Oct 14 | $1.05 Bounty Hunters Closer | $1.05 | $5,000 |
| Oct 14 | MYSTERY BOUNTY Main Event, $1M GTD [Stage 1] | $10.50 | $1,000,000 |
| Oct 14 | MYSTERY BOUNTY Main Event, $1M GTD [Stage 1] | $10.50 | $1,000,000 |
| Oct 15 | MYSTERY BOUNTY Main Event, $1M GTD [Stage 1] | $10.50 | $1,000,000 |
| Oct 15 | MYSTERY BOUNTY Main Event, $1M GTD [Stage 1] | $10.50 | $1,000,000 |
| Oct 15 | MYSTERY BOUNTY Main Event, $1M GTD [Stage 1] | $10.50 | $1,000,000 |
| Oct 15 | MYSTERY BOUNTY Main Event, $1M GTD [Stage 1] | $10.50 | $1,000,000 |
| Oct 15 | MYSTERY BOUNTY Main Event, $1M GTD [Stage 1] | $10.50 | $1,000,000 |
| Oct 15 | MYSTERY BOUNTY Main Event, $1M GTD [Stage 1] | $10.50 | $1,000,000 |
| Oct 15 | $1.88 Asia Kick-Off | $1.88 | $8,000 |
| Oct 15 | $2.50 Monster Stack | $2.50 | $10,000 |
| Oct 15 | MYSTERY BOUNTY Main Event, $1M GTD [Stage 1] | $10.50 | $1,000,000 |
| Oct 15 | $3.15 Bounty Hunters Warm-Up | $3.15 | $15,000 |
| Oct 15 | $4.40 Forty Stack | $4.40 | $12,500 |
| Oct 15 | $1.05 Bounty Hunters Big One | $1.05 | $5,000 |
| Oct 15 | MYSTERY BOUNTY Main Event, $1M GTD [Stage 1] | $10.50 | $1,000,000 |
| Oct 15 | $5.25 Bounty Hunters Mini Main | $5.25 | $30,000 |
| Oct 15 | $5 Saturday Classic | $5.00 | $20,000 |
| Oct 15 | $2.10 Bounty Hunters Big Game | $2.10 | $10,000 |
| Oct 15 | MYSTERY BOUNTY Main Event, $1M GTD [Stage 1] | $10.50 | $1,000,000 |
| Oct 15 | $10.50 Bounty Hunters Grand Slam | $10.50 | $50,000 |
| Oct 15 | $3.15 Bounty King Baby | $3.15 | $12,000 |
| Oct 15 | MYSTERY BOUNTY Main Event, $1M GTD [Stage 1] | $10.50 | $1,000,000 |
| Oct 15 | $7.77 LUCKY SEVENS Superstack Turbo [7-Max] | $7.77 | $20,000 |
| Oct 15 | $1.05 Bounty Hunters Closer | $1.05 | $5,000 |
| Oct 15 | MYSTERY BOUNTY Main Event, $1M GTD [Stage 1] | $10.50 | $1,000,000 |
| Oct 15 | MYSTERY BOUNTY Main Event, $1M GTD [Stage 1] | $10.50 | $1,000,000 |
| Oct 16 | MYSTERY BOUNTY Main Event, $1M GTD [Stage 1] | $10.50 | $1,000,000 |
| Oct 16 | MYSTERY BOUNTY Main Event, $1M GTD [Stage 1] | $10.50 | $1,000,000 |
| Oct 16 | MYSTERY BOUNTY Main Event, $1M GTD [Stage 1] | $10.50 | $1,000,000 |
| Oct 16 | MYSTERY BOUNTY Main Event, $1M GTD [Stage 1] | $10.50 | $1,000,000 |
| Oct 16 | MYSTERY BOUNTY Main Event, $1M GTD [Stage 1] | $10.50 | $1,000,000 |
| Oct 16 | MYSTERY BOUNTY Main Event, $1M GTD [Stage 1] | $10.50 | $1,000,000 |
| Oct 16 | $1.88 Sunday Asia Kick-Off | $1.88 | $10,000 |
| Oct 16 | $2.50 Sunday Monster Stack | $2.50 | $15,000 |
| Oct 16 | $10.50 Sunday Bounty Blast | $10.50 | $60,000 |
| Oct 16 | MYSTERY BOUNTY Main Event, $1M GTD [Stage 1] | $10.50 | $1,000,000 |
| Oct 16 | $3.15 Sunday Bounty Hunters Warm-Up | $3.15 | $20,000 |
| Oct 16 | $8.40 Sunday Bounty Hunters Special | $8.40 | $50,000 |
| Oct 16 | $1.05 Bounty Hunters Sunday Big One | $1.05 | $8,000 |
| Oct 16 | MYSTERY BOUNTY Main Event, $1M GTD [Stage 1] | $10.50 | $1,000,000 |
| Oct 16 | $8.88 Sunday CRAZY EIGHTS | $8.88 | $50,000 |
| Oct 16 | $5.25 Bounty Hunters Sunday Main | $5.25 | $50,000 |
| Oct 16 | $2.10 Bounty Hunters Sunday Big Game | $2.10 | $15,000 |
| Oct 16 | MYSTERY BOUNTY Main Event, $1M GTD [Stage 1] | $10.50 | $1,000,000 |
| Oct 16 | $11 Sunday Hundred Grand, $101K GTD | $11.00 | $101,000 |
| Oct 16 | $3.15 Sunday Bounty King Baby | $3.15 | $20,000 |
| Oct 16 | $10.50 Bounty Hunters Sunday Special | $10.50 | $60,000 |
| Oct 16 | MYSTERY BOUNTY Main Event, $1M GTD [Stage 1] | $10.50 | $1,000,000 |
| Oct 16 | $7.77 LUCKY SEVENS Sunday Turbo [7-Max] | $7.77 | $30,000 |
| Oct 16 | $1.05 Bounty Hunters Sunday Closer | $1.05 | $6,000 |
| Oct 16 | MYSTERY BOUNTY Main Event, $1M GTD [Stage 1] | $10.50 | $1,000,000 |
| Oct 16 | MYSTERY BOUNTY Main Event, $1M GTD [Stage 1] | $10.50 | $1,000,000 |
| Oct 17 | MYSTERY BOUNTY Main Event, $1M GTD [Stage 1] | $10.50 | $1,000,000 |
| Oct 17 | MYSTERY BOUNTY Main Event, $1M GTD [Stage 1] | $10.50 | $1,000,000 |
| Oct 17 | MYSTERY BOUNTY Main Event, $1M GTD [Stage 1] | $10.50 | $1,000,000 |
| Oct 17 | MYSTERY BOUNTY Main Event, $1M GTD [Stage 1] | $10.50 | $1,000,000 |
| Oct 17 | MYSTERY BOUNTY Main Event, $1M GTD [Stage 1] | $10.50 | $1,000,000 |
| Oct 17 | MYSTERY BOUNTY Main Event, $1M GTD [Stage 1] | $10.50 | $1,000,000 |
| Oct 17 | $1.88 Asia Kick-Off | $1.88 | $8,000 |
| Oct 17 | MYSTERY BOUNTY Main Event, $1M GTD [Stage 1] | $10.50 | $1,000,000 |
| Oct 17 | $2.50 Monster Stack | $2.50 | $10,000 |
| Oct 17 | $3.15 Bounty Hunters Warm-Up | $3.15 | $15,000 |
| Oct 17 | MYSTERY BOUNTY Main Event, $1M GTD [Stage 1] | $10.50 | $1,000,000 |
| Oct 17 | $4.40 Forty Stack | $4.40 | $12,500 |
| Oct 17 | $1.05 Bounty Hunters Big One | $1.05 | $5,000 |
| Oct 17 | MYSTERY BOUNTY Main Event, $1M GTD [Last Chance] | $10.50 | $1,000,000 |
| Oct 17 | $5.25 Bounty Hunters Mini Main | $5.25 | $30,000 |
| Oct 17 | MYSTERY BOUNTY Main Event, $1M GTD [Last Minute] | $10.50 | $1,000,000 |
| Oct 17 | $5 Monday Classic | $5.00 | $20,000 |
| Oct 17 | $2.10 Bounty Hunters Big Game | $2.10 | $10,000 |
| Oct 17 | $10.50 Bounty Hunters Grand Slam | $10.50 | $50,000 |
| Oct 17 | MYSTERY BOUNTY Main Event, $1M GTD [Final Stage] | $10.50 | $1,000,000 |
| Oct 17 | $3.15 Bounty King Baby | $3.15 | $12,000 |
| Oct 17 | $7.77 LUCKY SEVENS Superstack Turbo [7-Max] | $7.77 | $20,000 |
| Oct 17 | $1.05 Bounty Hunters Closer | $1.05 | $5,000 |
★★★ Ready to get in the action at GGPoker? Click here for a complete site review with exclusive PokerScout bonus offers. ★★★